---
Hi Jin,

the postmark says: "Card. Commissario per le 4 Legazioni", that could be translated into "Cardinal Commissioner for the 4 Legazioni". The "4 Legazioni" were 4 districts, inside Papal States, such as great provinces or small regions, and they were located in Bologna, Ancona, Perugia and Velletri: a fifth "legazione", called "Comarca di Roma", was located in Rome. Inside each "legazione" there were more smaller "legazioni", called "delegazioni". These 4 great "legazioni" existed from 1850 till to 1870.
Before 1850 the "4 legazioni" were only smaller provinces, located in Bologna, Ferrara, Forlì and Ravenna; all the others 14 "legazioni" were called "delegazioni".
So, the postmark probably regards the particular activities of a Commissioner for these 4 "legazioni", probably located in Bologna, and of course his letters could be shipped in franking exemption.
The image depicted inside the postmark is the "coat of arms" of these 4 districts, as you can see by this document: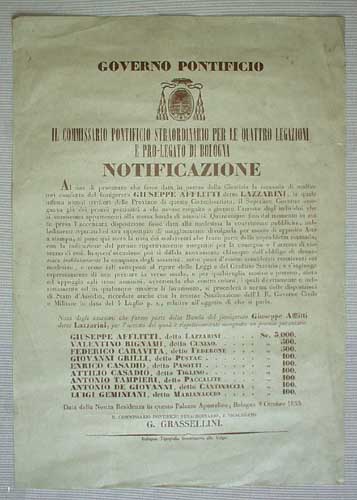 Cheers, Marco.